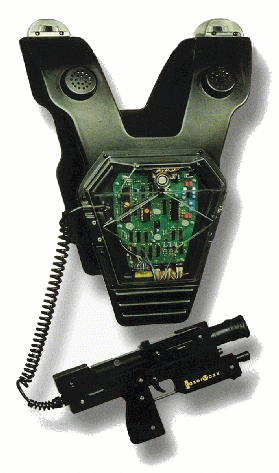 All the training is done. Some will start a taper now. My taper is going to be 10 days. One more 18-20 miler next weekend. Trent's probably right, pretty foolish to try and train for the
monkey
. Best training would be to run in the park every weekend. I've been once in the last 6 months. Geez, just hope I finish in under 4 hours. Just not feeling as strong on the hills this cycle.
Weekend went by way to quick as usual. Can't wait to read the rest of the Ironman recaps. Sounds like
Jill and company
had a great time. That may be the best way to "do" an Ironman for the first time. Only thing we did exciting this weekend was play a game of laser tag at
Phazer Kraze
. Dylan has decided that's were he'd like to have his birthday party.
Saturday, Speedy pulled me through 13 miles of hills at
Spain Hill
at real marathon pace, after I warmed up for a mile. One bad patch climbing Spain, slowed to a 8:00 mile. Last 3 miles are all down hill, so pretty easy to pull the average pace back down.
Sunday I went back out to the new Barfield connector trail. Saw 2 other runners out, plus a couple with their dog and a gazillion deer. The trail has been smoothed and graveled from the start to the bridge, 2 miles. The access road, mostly dirt and gravel from Hwy 99 adds three quarters of a mile one way. Crossed the bridge and able to run on another side for a half mile or so of freshly smoothed gravel and then another mile or so of single track dirt road/trail. I was able to get 8.75 miles of gravel/dirt without repeating any sections, all just out and back.